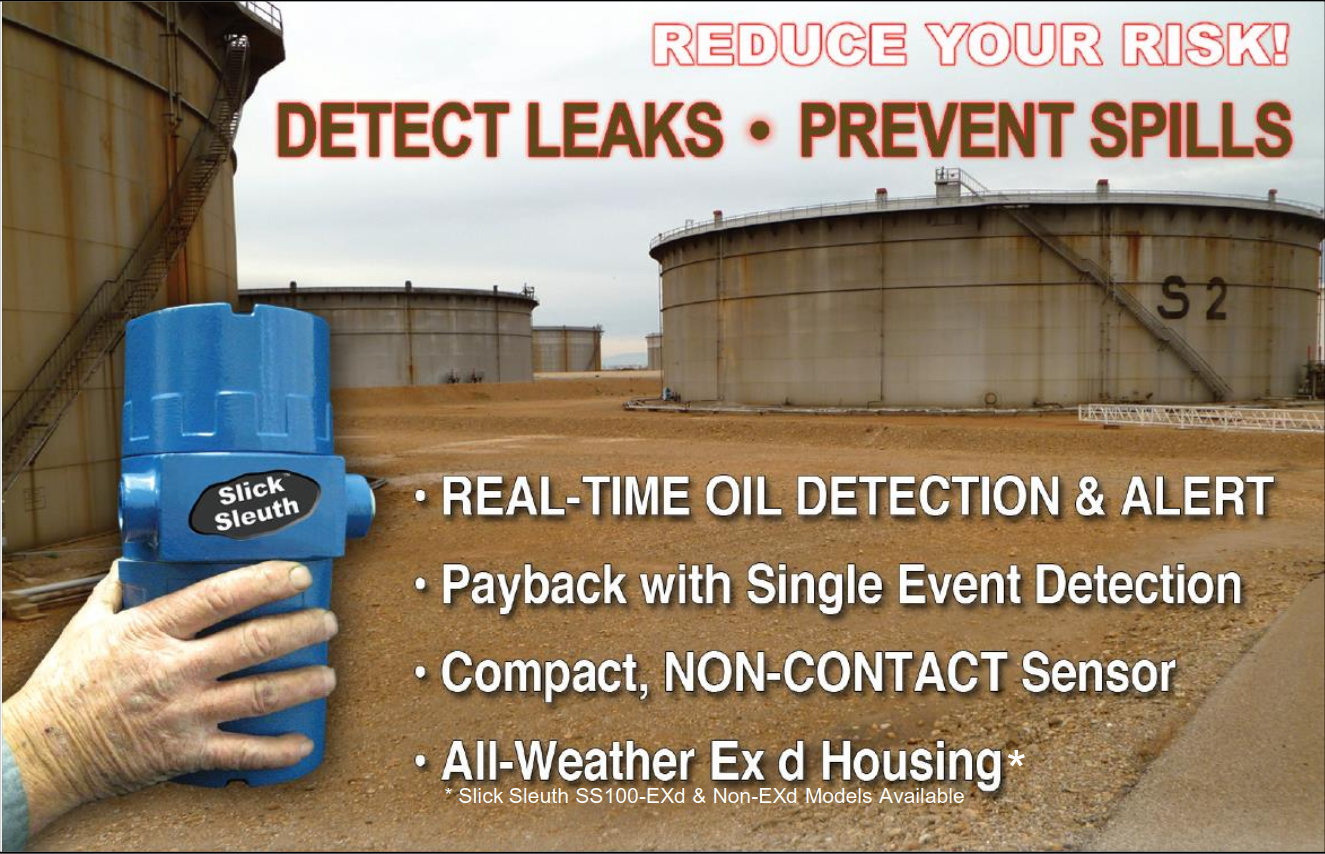 | | | | |
| --- | --- | --- | --- |
| Retention Pads & Drains | Separators & Discharges | Sumps, Wet Pits, Catchments | Secondary Containments |
Slick Sleuth model SS100 & SS100-EXd Oil and Fuel Detection Sensors are designed for installation in aboveground storage tank (AST) facilities, oil terminals, equipment rooms, or anywhere early-warning leak and spill detection is warranted. Oil detection sensors can be used at single points, or in a system array, to continuously monitor for accidental leaks and spills. In response to ever-increasing regulatory pressure and the need for environmental awareness, Slick Sleuth provides facilities/personnel with the ability to automatically detect spills, minimizing the risk (and cost!) of oil spill clean-up, mitigation, fines, and public relations nightmares.
A broad range of oil types are detected by Slick Sleuth, including crude, fuel, lube, transformer, compressor, diesel, jet, and others. Automated real-time detection triggers local alarms and/or interfaces directly to facilities' monitoring and control systems (e.g., DCS, SCADA) for early-warning alert, containment, and response. The robust sensor package is designed for all-weather installation, and the Model SS100-EXd is fully EX-certified for use in hazardous gas environments. Installation and setup are simple, and the non-contact optical system requires minimal maintenance (equivalent to a surveillance camera). Payback occurs with a single-detection, making the system highly cost-effective while allowing operators and managers to sleep better at night.
Please contact us for a REAL-TIME SOLUTION TODAY!
Specifications
Models:
Slick Sleuth SS100
P/N 4738568600-21
Slick Sleuth SS100 EXd
P/N 4738568600-20
Operation:
Automated, Optical, Non-Contact Sensor
Continuous Monitoring for Presence of Oil
Patented Technology (UV Filter-Fluorimeter)
Detection of Crude, Fuel Oil, Diesel, Lube, Transformer and Many More (Contact Factory for Specific Oil Types)
Sensitivity:
1 +/- Micron Sheen
Detection Range:
1-Meter (Over Ground or Water) for Sheen-Level Sensitivity
Temperature:
-10° to +60° C Operating (-25° C with Optional AC Heater)
-40° to +75° C Non-Operating
Enclosure:
Cast Aluminum / Polyester Powder Coating
NEMA 4X / IP66 Watertight
Explosion Proof Instrument Housing (See Zone Ratings)
Certifications:
Marked
Conforms to US EPA Standards (EPA/530 / UST-90/009)
Zone Ratings:
Model SS100 EXd only:
ATEX: II 2 G Ex db IIB+H2 T6 Gb IP66
IECEX: Ex db IIB+H2 T6 Gb IP66
Ports:
Power In and Signal Out
Mounting:
Mounting Boss for Surface or Pole Mounting
Dimensions:
6" x 6" x 11" / 16cm x 16cm x 28cm (DxWxH)
Weight:
10 lbs. / 4.5 kg
Input Power:
85-264v AC (50/60 Hz), 9-28v DC – Standard
UV Light Source:
Xenon Flash – Focused Beam
Xenon Flash Life:
5 Years (Typical) at 2 Hz Sampling Rate – Field Replaceable
Signal Output:
(1) Oil Detection Relay (SPST) – Normally Open
(2) Status Relay (SPST) – Normally Closed
(3) Current Loop 4-20 mA Analog (Status & Detection)
(4) Serial RS485
Web Portal:
Password Accessed Web User Interface (WUI) – Optional
Initialization:
Magnetic Switching to Automatically Set Operation Point
Local Interface:
USB Interface for Set-up & Maintenance
Local Indicator:
LED Indication of Status/Power
Patented By:
InterOcean Systems, LLC
Warranty:
2-Years standard InterOcean Systems' Factory Warranty
| | | |
| --- | --- | --- |
| Storm Water / Cooling Water | Tanks & Terminals / Dikes & Roof Drains | Marine Terminals / O&G / Industrial Sites |